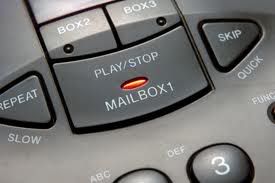 Gordon Matthews, an entrepreneur and inventor, created voicemail in 1979 after growing tired of seeing stacks upon stacks of pink "While You Were Out" notes on his desk.
Mr. Matthews gave us a tool and unfortunately many people misuse it in the same way that Robert Gaskins, creator PowerPoint, can't be blamed for presenters boring audiences with his tool in conference rooms across the world.
Why We Hate Listening To Voicemails
Just how much do we abhor the way people abuse voicemail when communicating with us? A lot, according to a Yap Inc study that came out last year. The research indicated a high degree of anti-voicemail sentiment showing that:
38% hate dealing with long, rambling messages
15% dislike navigating touch-tone menus to access and delete messages
13% need to grab a paper and pencil to take notes
12% feel obligated to call the person back
10% can't listen to messages during meetings or while in noisy places
Value In Leaving Voicemails
Granted, sometimes you want to leave a quick "fyi" voicemail or a brief "just touching base" message without expecting an immediate return phone call. Other times you might need to leave longer voicemails such as to provide direction on how to move forward with an assignment or as feedback on a project when you could not attend a meeting or presentation.
You can also use your own voicemail to record your ideas when you're away from the office. Still, most of the time you leave someone else a voicemail because you want that person to call you back asap.
Habits To Avoid When Leaving Voicemails
So what can you do to make your message stand out in a positive way from the crowded field of voicemails? You can avoid leaving messages that are:
1. Rambling
– Know what you want to say before you hear the beep. The listener will give each message a few seconds to decide whether or not to hear more. Sounding confident and providing useful information in a short voicemail encourages listeners to play the complete message and respond to you. However, the subject of your voicemail might not be the listener's top priority. In this case, the return call might not come until a day, a week, or even longer, regardless of how you left the message.
2. Ranting
– Who wants to hear someone yelling and screaming on a recording? If you're upset, then you can be candid while using a calm, collected tone of voice: "Hey Jim, I'm upset at what you said during the meeting about our progress on the project and would like to discuss that with you. Please call me later today and let's talk. Thanks."
Most of us will listen to someone's criticism or disagreement, and even anger, as long as the speaker uses a respectful tone of voice and a desire to engage in a dialogue, not a monologue. Conversely, a long, emotional outburst on a voicemail comes across like you're hiding behind the phone as a shield while launching a verbal assault without giving the other person a chance to respond.
3. Repeating
Consider writing your main points on paper and then sticking to that script when you record your voicemail. Otherwise you run the risk of being redundant. If the repetitive message isn't deleted or saved, the listener likely will put it on speaker and continue working without giving full attention while waiting for the voice to stop.
4. Reversing
Saying one thing, and then thinking out loud to say the opposite — on the same voicemail — is a definite path to the delete button. Listeners are doing several things at one time while playing your message. Once you sound like you're wavering on the direction and tone of the message, you've lost the audience.
And please don't rely on the re-record option in case you messed up what you wanted to say. With so many variances in how voicemail systems operate, if you're careless about leaving a coherent message your chances of accidentally sending a poor recording are high.
5. Rushing
Say your phone number twice, and s-l-o-w-l-y. You've said your number hundreds of times and the tendency is to speed up when leaving your number, which is the most important information about how to reach you. Of course if the other person knows you well, you can avoid leaving a number at all.
Let me know what you think about these strategies and other thoughts you have about voicemails.